Products
Regenboog Apotheek Shipping Pharmacy delivers a wide variaty of products
Philips HeartStart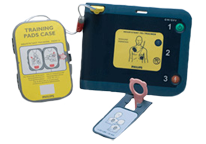 Empower your students by teaching them how to use the HeartStart FRx Defibrillator to help save lives. The HeartStart FRx Trainer simulates how the HeartStart FRx Defibrillator will operate during a real-life cardiac arrest event. Clear, confident voice instructions and pre-configured rescue scenarios make training students easier and more rewarding.
More information about this product »
One Step Saliva Alcohol & Drugs Test
The Saliva Alcohol Test Strip (Saliva) is a rapid, highly sensitive method to detect the presence of alcohol in saliva and provide an approximation of relative blood alcohol concentration (BAC) at 0.02% or greater. This test provides a preliminary result only. A more specific alternate chemical method must be used in order to obtain a confirmed analytical result. Gas chromatography (GC) is the preferred confirmatory method. Clinical consideration and professional judgment should be applied to any result, particularly when preliminary positive results are indicated.
Products
Other Products